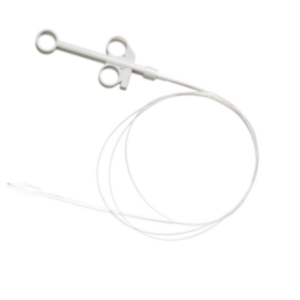 60717
Foreign Body Retrieval Basket
Description
The Foreign Body Retrieval Basket can facilitate easy removal of foreign bodies from the GI tract. The basket component of the tool features 4 wires made of rigid, stainless steel which exhibit a braided configuration. Clinicians can select from small, medium, and large sizing dimensions. The catheter component is made from Teflon®. The Foreign Body Retrieval Basket comes sterilized with Ethylene oxide.
Foreign Body Retrieval Devices are designed to facilitate the easy removal of foreign bodies from the GI tract. The tool is comprised of a braided, a 4-wire hexagonal basket made with hardened, stainless steel wire, as well as a Teflon® catheter.Multiple Sizes From Which to ChooseBasket configurations come in small (30mm x 10mm), medium (45mm x 15mm), and large (60mm x 30mm). Catheters are available with diameters of either 1.8mm or 2.3mm.The foreign body retrieval device is sterilized using ethylene oxide.Do not use more than once. There are 5 foreign body retrieval baskets per case.
Product Features
Braided, 4-wire hexagonal basket
Teflon® catheter
Sterile
Sterile
The dimensions and properties listed can vary within pre-established specifications. This page was created using the most recent information. In the interest of continuous improvement, the characteristics of the product may change without prior notice.
| Name | Value |
| --- | --- |
| Product Brand | AVANOS* |
| Name | Value |
| --- | --- |
| Packaging Details | 1 CS = 5 Units |
| Case Selling Package Volume | 5.380 CDM |
| Case Selling Package Length | 42.324 CM |
| Case Selling Package Width | 20.607 CM |
| Case Selling Package Height | 6.160 CM |
| Case Selling Package Weight | 0.531 KG |